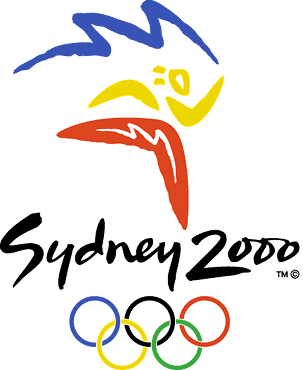 I wish I could remember the summer that we hosted the cousin summer Olympics. It was after the Howlands moved to Kansas City, which was second grade…and I am venturing to guess that it was Summer 2000, since that is when the Summer Olympics were in Sydney—and I was glued to the TV every afternoon watching the swimming and gymnastics.
I have vivid memories of Bridget (the oldest Howland) holding a clip board with all of our events listed, bossing the younger cousins and telling us where we needed to stand and what our scores were. I remember the opening ceremony taking place in the Howland's backyard, where we marched around the perimeter of the yard waving homemade flags from whatever country we had been assigned. The "Olympic Games" spanned several afternoons if I recall, and we ended up hosting the closing ceremony in our backyard down the street. We had a medal ceremony, where we were awarded cardboard Olympic medals and sang the national anthem. We celebrated the end of these games with patriotic bomb pops and lots of congratulations and applause from our poor parents, aunts and uncles who were forced to endure our creativity.
I have always loved the summer Olympics, or truly the Olympics in general. There is something so magical about the entire world putting aside differences and conflicts to take part in the games. And, unlike my dad, I happen to enjoy the background "sob stories" (as he calls them) about each of their athletes and their journey to the games. I remember staying up WAYYY too late in Kindergarten watching Keri Strug and the U.S. Olympic gymnastics team, also, I would be lying if I said I didn't have a picture of Ian Thorp diving off the blocks on my wall for years (which I nicked from Andrew's Sports Illustrated Sydney Edition).
Even just the sound of the traditional Olympic Music or seeing the colored rings gets me excited! One year, we joined some neighbors of ours and
lined the streets in Kansas City to watch as the Olympic torch passed by.
So, perhaps our little cousins Olympics was not the epic event I thought it was at the time, but nonetheless, it makes for an amazing summer memory.
Love and Prayers,
Court